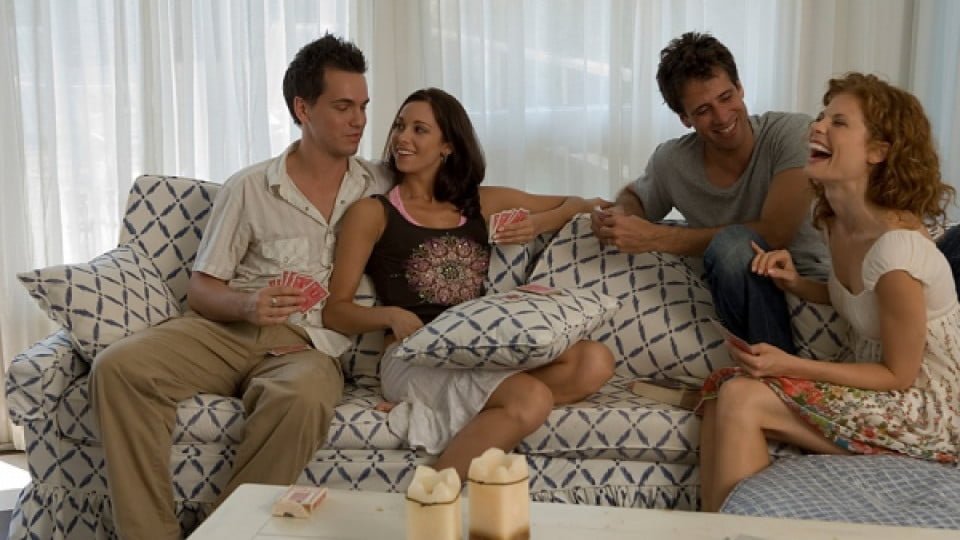 Let me first start off by describing my hot sexy wife for you.
She's 38 years old with a 5'8″ curvy build (not fat just curvy). She has blonde hair but her natural color is brunette. She has big beautiful breasts, size 36 D, and they are implants but they feel and look like the real thing. She has beautiful brown eyes and a smile that'll melt your heart, and she has just the right size ass, not too big and not too small. In her spare time she does pin-up modeling for a magazine called Delicious Dolls. She's just beautiful, sexy and smart.
The total package.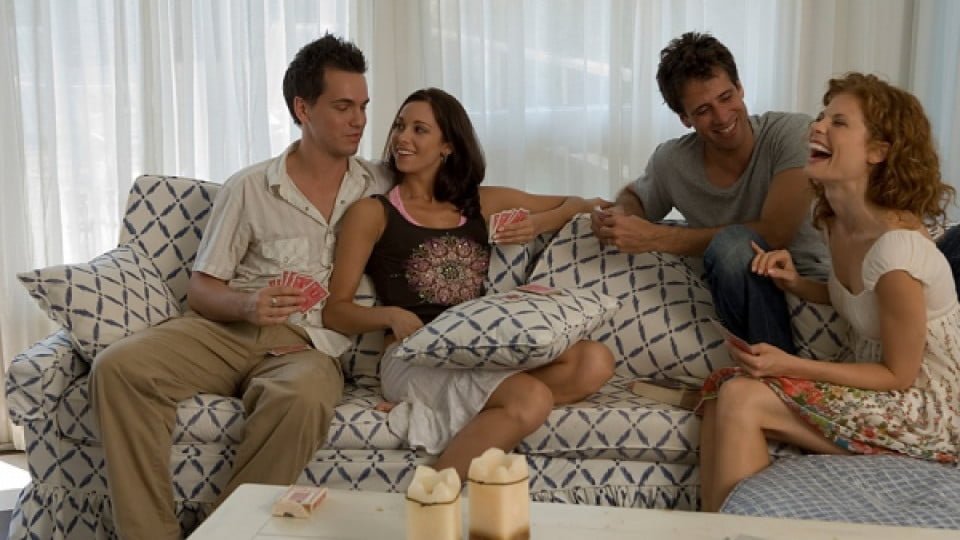 It all started one even when we were having a Halloween party at the house. She was dressed like a sexy Olive Oyl and I was dressed as Popeye. She wore a skintight red sweater that showed off her curves and beautiful large breasts and a hiked up black skirt with sexy leggings and high heels.
We invited five couples to the party; some were her friends and some were mine. Now you have to know that we never discussed swapping, sharing or threesomes before so this night wasn't planned for anything like that.
My wife was the perfect hostess, making sure everyone had food and liquor and chatting with the guests. She doesn't usually drink very often but this night she was having fun and getting drunk. As the night wore on couples started saying their goodbyes and left. Only one other remained, they were her friends. She worked with the husband of this couple.
He was tall, young, well built and handsome. His wife didn't hold a candle next to my wife. She was kind of homely looking or maybe it was because she was dressed as a nun. Either way I was attracted to her but I could tell my wife was attracted to him just by the way she was flirting with him.
We stayed up pretty late drinking, laughing, and talking. I ended up bringing some playing cards out and asked Bob if he played poker. He said yes but usually it's for money and asked me what the stakes are. I told him no money just for fun and he replied that we should bet something. So I jokingly said let's bet our wives clothing and he laughed and said "deal!"
The wives weren't too happy about this and honestly neither was I. So we played a few hands and it got boring quickly, even the wives were getting bored. So Bob mentioned the only way to get this party going was to bet clothing, everyone's clothes this time not just the girls. The wives got together and said they'll do it but only down to their underwear. I agreed with the girls. So we started playing all four of us.
A few hands into the game Bob's wife was down to her bra and long skirt, and my wife had her shirt on but her skirt was off so were her high heels and leggings. So pretty much, my wife was sitting there in her panties. I told her if she loses one more hand the game is over because she'll be in her underwear then. She replied she's in it to win it and she won't stop with the bra and panties. Bob's face lit up and he said that a girl have fun. Bob's wife was getting tired and losing interest.
She eventually quit the game and sat on the couch and watched tv until she feel asleep. But before she did that we played a couple more hands and Bob lost both hands so he took off his shoes and shirt. He was pretty muscular and tan and my wife noticed that. After that is when Bob's wife went to watch TV.
The very next hand my wife lost so off came the shirt, exposing her tits in her bra. So you gotta imagine my wife being a model, you know she's not wearing no Wal-mart boring bra. She's wearing a nice sexy one that you can just make out the nipples thru it. I looked at Bob and he was just staring at her tits and said "wow I always wonder what they looked like under your work shirt." She laughed and said "if I lose another hand you'll get to see them without the bra on!" because her panties would be the last to go.
A few more hands went by, and by this time Bob's wife is sawing logs on the couch. I'm sitting there in my pants and no shoes or shirt. Bob is sitting there with just his underwear on by now. The very next hand Bob lost again and stood up pulled down his underwear and exposed a large thick dick. I looked at my wife and she was shy to look at first but once she did, she couldn't take her eyes off of it. He sat back down and said game is over, he lost, he's naked.
My wife told him to deal again and she'll figure out what he can bet now that he's naked. So Bob dealt the cards, my wife made a comment that she always wondered what he was packing under his work pants. He laughed and said "well now you know".
The next hand my wife lost and off came her bra. She looked at Bob and said "are you ready for this" and took it off exposing her ample breasts. She grabbed them and squeezed them and then she said "deal the cards" so he dealt again. By this time I'm feeling like a third wheel because they just keep talking to each other. I lose the next hand so I end up in my boxers and my wife tells me I'm going to get your dick out too. I laughed and said "we will see".
Next hand my wife lost, she stood up and did a sexy dance while taking off her panties exposing her shaved pussy. Bob was just smiling and shaking his head in disbelief that he finally gets to see my wife naked. The next hand I lost so I end up naked. So now we're all naked and I mentioned what do we do now? My wife said there is still more to bet. I said like what? She said you'll see and told Bob to deal.
That hand my wife lost and I won and Bob had the next best hand so my wife told me since I won I get to make up a bet for her. I told her ok let me think. I didn't want to be too vulgar so I told her that she has to make her tits bounce. She did it and said that was too easy and that we need to be more creative. We agreed to that and Bob dealt the cards.
My wife won that one and I lost. She told me to suck on one of her nipples. She stood up and almost fell over because she was so drunk by this point. I stood up and started sucking on her nipple. She reached down and started stroking my dick. I got embarrassed so I backed off. I didn't want to get hard in front of another man.
By the time we sat back down Bob had the cards dealt already and that hand I lost again and the wife was the winner again. She said "since basically both guys lost I get to make a bet with both of you". She told us we both have to suck on her tits now. She stood up again and Bob jumped up and started sucking on one, but I was kind of hesitant not knowing what to think about this. She reached down and started stroking his big dick as he kept sucking on her tit. I was starting to get aroused with what I was seeing.
It surprised me because I thought I would be mad if I ever saw my wife do something like that. So I stood up and started kissing her other breast and she started to jerk me off too. We did this for only a couple minutes and then my wife said let's play because she had a better idea for the next bet.
So we played and Bob won this time I lost. So we were kind of stuck because there ain't no way I'm touching his dick or anything like that. So Bob made a bet that I tell my wife to finger herself for one minute. So I told her "you heard the man, do it." She said she liked where this was going and leaned back and started playing with herself. She was staring at Bob the whole time she did it.
Bob said ok times up and my wife gathered herself back up and was ready to play again. She mentioned she was so wet right now and she wants to do that again.
Next hand Bob won again and my wife lost this time. So Bob told her to play with herself for five minutes this time. So she happily obliged and started fingering herself again. Five minutes went by and time was up once again. By this time I could tell my wife was pretty horny and all worked up. She won the next hand and Bob lost. She told Bob to come sit by her so he did. She started jerking him off and she told him to finger her. As I'm sitting there watching them, I'm getting the biggest and hardest erection ever.
Watching his fingers slide in and out if my wife's pussy and playing with the clit also. She's moaning, he's moaning, and they are staring into each others eyes. She started to stand up and told Bob there's a second part to the bet and for him to follow her and that I can come too.
So we followed her into the other living room and she told me to sit down and watch and that I can't join in because I wasn't the loser. She dropped to her knees and started to suck his huge duck. I started playing with myself at this point watching her go to town on his dick. She was playing with his balls and everything. She looked at me and said I'm going to fuck him and I can stay if I want or leave, the choice was mine.
So I stayed.
She made him sit on the couch and she climbed on top and started riding his dick. At first penetration my wife moaned loud because of his huge dick. Started riding it slow at first and then faster and faster. They both came at the same time loudly too. I thought Bob's wife was going to wake up with how loud they were. He came inside her because she told him to and then collapsed on top of him.
The next day the wife told me she was sorry that happened, she was drunk and got horny. I told her it was ok and that I hope it happens again. She was surprised by my reaction and said "really?" I told her hell yeah I can't wait and that was the beginning of our swinger lifestyle.